TVie Internet Set-top Box (The New Invention of Myanmar Net)
You can access the internet with Myanmar Net TVie (Internet Set-top Box) and connect to the TV or monitor via HDMI cable. You can also watch TV entertainment programs such as Myanmar Cast & CANAL+. In addition to the built-in Youtube and Facebook Watch apps, you can also browse and download your favorite Android apps from the Google Play Store. Singing enthusiasts can also set up a microphone and sing karaoke.
TV – Watch on TV, Monitors (or) mobiles
Internet – Unlimited Internet Access
Entertainment – Enjoy watching Movies, Series & variety of Entertainment programs and Singing Karaoke
TVie Installation fee
Free (during the promotion period)
TVie Monthly fee
23,000 Kyats and above Myanmar Net Plans – Free
19,000 Kyats and below Myanmar Net Plans – 2,000 Kyats (Free Speed ​​1 Mbps)
Products that can be purchased in conjunction with Tvie
Microphone – 8,000 Kyats
Monitor (21 inches) – 18 months installment with 11,000 Kyats monthly (10,000 Kyats deposit)
Speaker – 17,000 Kyats
UPS (6 months warranty) – 18 months installment with 9,000 Kyats monthly (10,000 Kyats deposit)
User Guides
Myanmar Cast
In addition to LIVE TV Channel shows on Myanmar Cast, International series, new Myanmar series, Myanmar films and videos, MTV songs etc choose from a variety of international news and exciting entertainment in one place.
Watch and Feel Myanmar Cast Gold Star Programs
Free LIVE TV programs; the films, videos and musics In addition to TV entertainment programs. Currently you can buy Myanmar Cast's new Star Packs for watch many special selection films,l videos and series.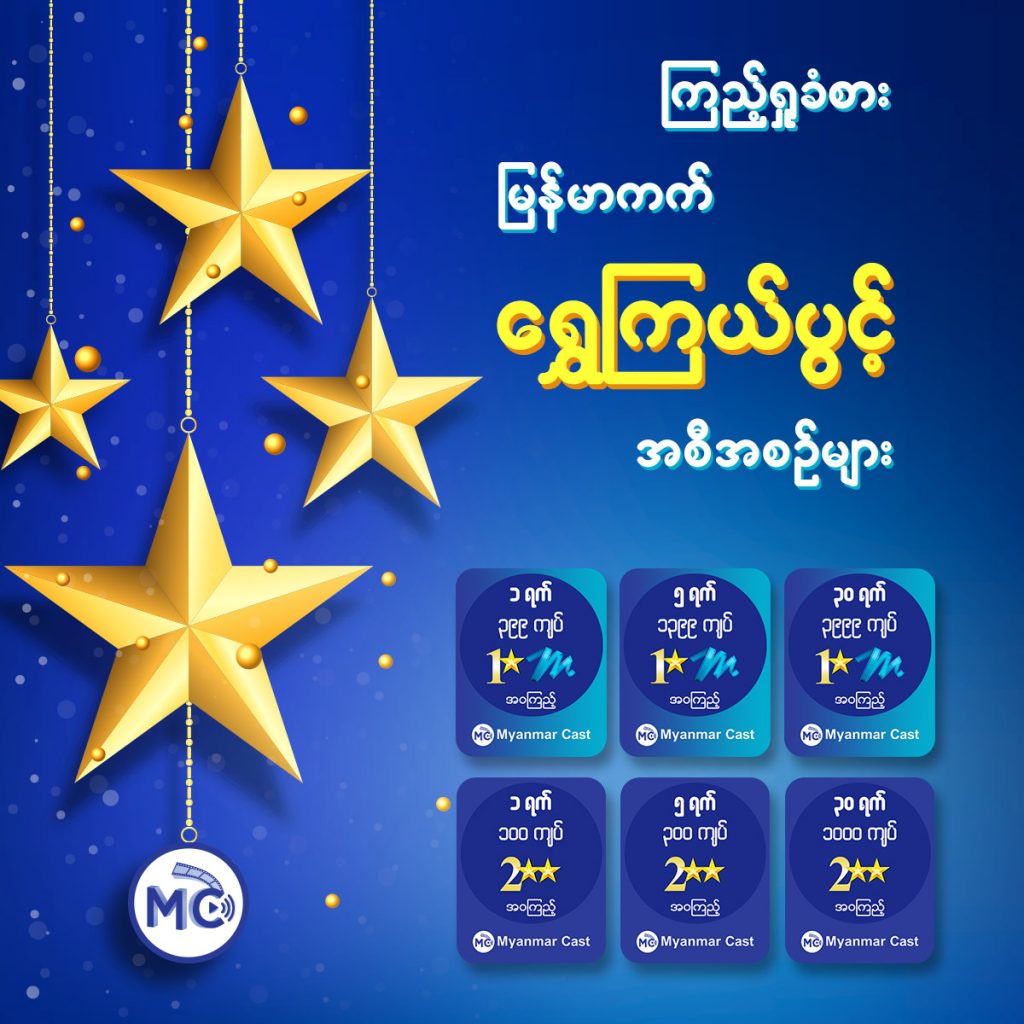 ⭐ Myanmar Cat 1 Star Pack
Officially screened by the Myanmar Motion Picture Organization and film production companies, the world's largest Myanmar film bank, "Maha", which has the largest number of Myanmar films, produces high-quality films, Videos and the series will be presented.
1 day – 399 kyats
5 days – 1,399 kyats
30 days – 3,999 kyats
(Free for 26,000 Kyats and above plans users)
⭐⭐ Myanmar Cat 2 Star Pack
A special selection of films, videos and musics selected by Myanmar Cast. There will be presented TV entertainment programs and news.
1 day – 100 kyats
5 days – 300 kyats
30 days -1,000 kyats
Myanmar Net users can subscribe to TVie and watch Myanmar Cat Star Pack programs not only on their mobile phones but also on your TVs.